"It's FREE to give us a "SHOUT OUT"...
---
Country Overview:
Ethiopia is Africa's oldest independent country and its second largest in terms of population. Apart from a five-year occupation by Mussolini's Italy, it has never been colonized.
It has a unique cultural heritage, being the home of the Ethiopian Orthodox Church – one of the oldest Christian churches – and a monarchy that ended only in the coup of 1974.
It served as a symbol of African independence throughout the colonial period, and was a founder member of the United Nations and the African base for many international organizations.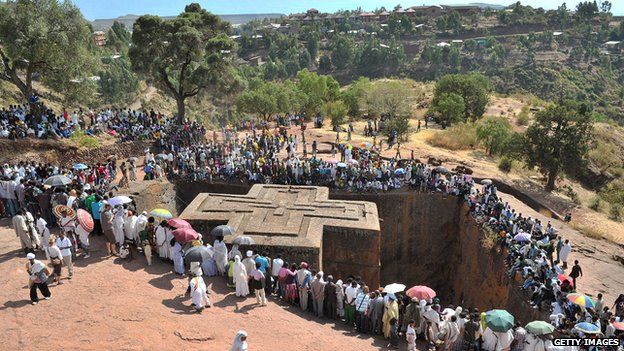 Ethiopia has suffered periodic droughts and famines that lead to a long civil conflict in the 20th Century and a border war with Eritrea.
In the first part of the 20th Century Ethiopia forged strong links with Britain, whose troops helped evict the Italians in 1941 and put Emperor Haile Selassie back on his throne. From the 1960s British influence gave way to that of the US, which in turn was supplanted by the Soviet Union.  The country of Ethiopia is known now as the "Federal Democratic Republic of Ethiopia" or FDRE.
---
What is the population of Ethiopia?
99,465,819 (*According the the Ethiopian World Factbook on CIA.gov website)
🙂  everyone counts…& is counted 🙂
---
What is the age of the population?
(0-14 years): 

43.94% (male 21,900,571/female 21,809,643)
                 *Almost 1/2 of Ethiopia is under 14 years old
(15-24 years): 

19.98% (male 9,865,976/female 10,009,596)

(25-54 year)s: 

29.31% (male 14,487,280/female 14,667,179)

(55-64 years): 

3.88% (male 1,882,315/female 1,981,762)

(65 years and over): 

2.88% (male 1,289,336/female 1,572,161) (2015 est.)
---
Where is Bahir Dar located in Ethiopia? 
On Lake Tana in NW Ethiopia
---
What does a hippo look like in the wild?
In Bahir Dar, like this… 🙂 
and this…
in Addis Ababa (the capital city)…they have to hang out here.
---
How large is Ethiopia?
1.13 million sq km (437,794 sq miles) *approximately less than twice the size of Texas
---
What is the national language?
Amharic
Oromo (official working language in the State of Oromiya) 33.8%
Amharic (official national language) 29.3%
Somali (official working language of the State of Sumale) 6.2%
Tigrigna (Tigrinya) (official working language of the State of Tigray) 5.9%
Sidamo 4%
Wolaytta 2.2%
Gurage 2%
Afar (official working language of the State of Afar) 1.7%
Hadiyya 1.7%
Gamo 1.5%
Gedeo 1.3%
Opuuo 1.2%
Kafa 1.1%
other 8.1%
**English (major foreign language taught in schools)
Christian Orthodox Church leaders & students learn in the Geez language
Arabic
I (Tim), speak "Caveman Amharic" – I'm not very polished with my Amharic, but I'm able to communicate on a caveman-like level.
---
What are the major religions in Ethiopia?
Ethiopian Orthodox 43.5%
Muslim 33.9%
Protestant 18.5%
Traditional 2.7%
Catholic 0.7%
Other 0.6%
We want everyone to know that both Christians & Muslims live mostly in peace with each other in Ethiopia.  For example, when Yismaw lost his father, his mom's best friend, who is a Muslim, invited her into her home to live with her until she had a place to live.  We appreciate the Christian/Muslim relationships in Ethiopia.  We have been shown much love from those of the Islam faith, and we reciprocate that love in our words & actions.  Much of the religious animosity we've seen in Ethiopia is between Christian Orthodox and Christian Protestant, brothers not getting along, now that's not new.
St. Francis of Assisi: 
"Preach the Gospel at all times and when necessary use words."
 "If you have men who will exclude any of God's creatures from the shelter of compassion and pity, you will have men who will deal likewise with their fellow men."
"For it is in giving that we receive."
---
Bob Handy:
"LOVE – Show it, don't blow it"
 "In life, anything given, without including yourself, is an empty package wrapped nicely."
---
What is the current life expectancy in Ethiopia?  *(2013 WHO report)
Ethiopia is ranked #193 – 59 years (men), 64 years (women)
Japan is Ranked overall #1 with 80 years (men), 87 years (women)
Israel is #9 with 81 years (men), 84 years (women)
Lebanon is #29 with 78 years (men) , 82 years (women)
US is #34 with 76 years (men), 81 years (women)
---
What is the % of adult obesity in Ethiopia?  (as compared BMI – Body Mass Index, in which I'm not a fan)
Ethiopia is ranked #191 with 3.3% of the adult population being "Obese"

– look for this to rise in the next 10 years b/c many towns have deep friers on the streets serving up fresh french fries and potato chips every night cooked with Palm Oil that solidifies at room temperature.  …not good for the arteries and heart.
The US is ranked #18 with 33% of the adult population being "Obese" – I still believe that I'm "Big Boned", wearing my childhood "Husky" pants.  – that's me, not a fan of the "Skinny Jean" movement either.
---
What is life expectancy at birth in Ethiopia? *(2014 UN report)
Ethiopia is ranked #164 – 56.64%
Japan is Ranked #1 – (83.7%)
Israel is #10 – (82.1%)
US is #40 – (78.9%)
Lebanon is #107 – (72%)
---
Who is the current leader of Ethiopia?
Prime minister: Hailemariam Desalegn
---
IS IT SAFE IN ETHIOPIA? (the 10 million dollar question)
As most of you know, there is a risk going anywhere in the World these days, but I don't want to give you a vague answer to the big question.  In this country, there are internal conflicts at the regional level which mostly occur near border areas.  In the major cities, we feel completely safe.  We even walk home from town after dark…the only time of day we're not seen as foreigners…b/c nobody can see us. 🙂  We are cautious when we take public transportation to other towns, but we haven't experienced any problems, nor heard of any issues with foreigners.
---
How about the Ethiopian economy?
Ethiopia is one of fastest growing non-oil economies in Africa. Depends heavily on agriculture, which is often affected by drought. Coffee & Sugar is a key export.  Ethiopia is currently in the process of building the "Grand Ethiopian Renaissance Dam" about 9 miles east of the Sudan border.  Construction started in December 2010, and it is expected to be partially operational later in 2016, fully operational in July 2017.  When completed, it will be 574 ft tall & 5,906 ft (1.2 miles) long.  It is estimated to cost $4.8 billion USD, and it will be the largest dam in Africa.  It has been financed through government bonds and private donors.  Ethiopia is expecting to sell electricity to neighboring countries, including Sudan & Egypt.  This project has come with controversy, primarily with Egypt due to damming up the Nile.  Ethiopia, Egypt, & Sudan created a Tripartite National Committee (TNC), and they began meeting since September 2014, and they continue to discuss the dam.
---
---
---
---
Labor Sectors:
  – services: 
43% (2015 est.)
Agriculture – products:
  – cereals, coffee, oilseed, cotton, sugarcane, vegetables, khat, cut flowers; hides, cattle, sheep, goats; fish
Industries:
  – food processing, beverages, textiles, leather, chemicals, metals processing, cement
Industrial production growth rate:
    8.5% (2015 est.)
Labor force:
    49.27 million (2015 est.)
Labor force – by occupation:
  – services: 
10% (2009 est.)
Unemployment rate:
  – 17.5% (2012 est.)
  – 18% (2011 est.)
---
Do many people speak English?
Most individuals who have completed the 12th grade are able to understand and speak some english.  Most university students speak good English.  So, the amount of English comprehension is primarily based on their level of education, b/c courses from grade 4 and up are taught in English.
---
Is there good foreign food in Bahir Dar?
Define good.  🙂 The foreign food is getting better every year.  Ice cream has come a long way, but it still doesn't compare to Ben & Jerry's.  However, the local Ethiopian cuisine is very enjoyable and many volunteers/tourists enjoy the local food. …and, you get to EAT WITH YOUR HANDS!!! 🙂  A great way to build relationships and community.  
You will share a plate and good conversation!
 The Ethiopian culture is a beautiful culture, and the longer we're here, the more we appreciate this country.
---
---
---
Will my cell phone work?
Yes/No – We have a local 3G cellular network, but you'll need a local SIM card and an unlocked phone (that takes a SIM card).  Also, you can call back to your home country if you have an international plan on your phone.  You can also connect to a local Wi-Fi network and Skype, send emails, or check the internet on your smartphones.  FNM provides each volunteer team with a local phone preloaded with our staffs numbers…this keeps us connected with our volunteers 24/7.
---
Is it safe to drink the water?
In Bahir Dar, we have a chlorinated municipal water system…but they do tend to have breaks in the lines (and there aren't any "boil alerts" sent out to communities…like in the states.  So, we filter our water in our house, and that's good for us.  We purchase bottled water for our volunteers.  There's a comfort feeling that comes from water packed in a sealed plastic bottle.
In some places, where water might have some not-so-good bacteria, people will ferment a local beer called "Tela".  Most countryside farmers drink more Tela than water.  This is a safe alternative.  Most Tela has a low alcohol content.
So, you can drink the bottled water and it's all good!
---
What are some other drinking alternatives?
Besides bottled water, there is also bottled pop (Coke, Sprite, Pepsi, Fanta), coffee, tea, Ethiopian bottled beer, local beer ("Tela"), milk, Ethiopian bottled wine, local honey wine ("Tej"), and macchiatos (a favorite of most volunteers).  Oh, yea, we also have "Moonshine", known locally as "Areky".  Ethiopians use the "Old School" distillation process, like Uncle Jesse & the Duke boys 🙂  Areky is used as a medicine in Ethiopia (mostly in the countryside) to destroy bad bacteria in your stomach, takes care of the "belly bugs" when you don't live near a pharmacy.
This is Tela (local beer), close up…
…very grainy (in the country side, you will be spitting out the chaff as you sift it through your front teeth)
---
Is there Malaria in Bahir Dar?
Yes, We use mosquito nets in our house, and we always have mosquito nets for our volunteers.  Local hotels also have nets for their guests. Some hotels will even spray a nasty bug spray in your room about 2 hours before you go to bed.  We don't take a malaria preventative pill, and we have been in Bahir Dar for over 6 years, but this is up to you and what you're comfortable doing when you come (b/c it would be a shorter period of time to take such preventative medicine).
---
How are the bathrooms?
Most hotels and some restaurants will have a "western" toilet.  (No, I don't mean western like John Wayne…if you've heard that joke.)  I mean a porcelain toilet you sit on.  The Ethiopian toilets are holes on the floor in which you squat.  If you have bad knees, it would be good to go to a place that you know has a John Wayne toilet… I mean western toilet.
The local word for toilet paper is "soft".  Which is a perfect word b/c it's being compared to using a smooth stone, as most use in the countryside.
---
What is the weather like in Bahir Dar?
We primarily have 2 types of weather, Dry & Rainy.  The Dry season if roughly 8-9 months, and the Rainy season is 3-4 months (June, July, Aug) – sometimes starting in mid-May and ending in mid-September.
AVERAGE MINIMUM AND MAXIMUM TEMPERATURE OVER THE YEAR
The monthly mean minimum and maximum daily temperature.
---
AVERAGE MONTHLY RAINY DAYS OVER THE YEAR
This is the number of days each month with rain, snow, hail etc.
---
AVERAGE MONTHLY PRECIPITATION OVER THE YEAR (RAINFALL, SNOW)
This is the mean monthly precipitation, including rain, snow, hail etc.
---
What about Ethiopia?
When you come to Ethiopia, you may see things…which seem very different to your "developed" country.  We want you to know that Ethiopia is very developed in regards to family, relationship, community, and hospitality.  When you come here, you already have a picture in your mind, based on what you've either read or seen on TV.  When you leave, you will have a different picture in both your mind and your heart that you will have with you the rest of your life.  The FNM Staff aren't only great at their work, they are wonderful hosts to everyone who visits their center and their country.
---
What if you're asked to attend a "Gibsha" or Celebration?
If the host is either family or a very close friend…Remember, not everyone you bring to the celebration is guaranteed to come back with you…
---
A gift to celebrate a Holy Day, marriage, or special event is cultural…

---
What is the need of developing those who have Developmental Disabilities?

The existing special needs class units and schools are located in urban areas, and most of them have long waiting lists.  Consequently, a significant number of children and students are still excluded from all education.  It is estimated that less than 1% of children and students with special needs get access to primary education.  According to international estimates, 10-20% of any school age population has special educational needs.  FNM is looking to make an impact on this figure in Bahir Dar.
---
What brought the Giese Family to Ethiopia?
In 2008, we adopted a little girl named "Rediet", meaning "something small that will become great".  It was through this adoption, and the namesake of Rediet in which Forgotten No More got it's beginning.  We adopted Rediet in 2008, and we were called to come in July 2010.  We first volunteered for 2 years with a great organization called Grace Center for Women & Children.  It was our time at Grace that we realized the need for an organization for those with developmental disabilities.  On January 1, 2012 Forgotten No More was founded as a 501(c)3 non-profit organization in the US.  On March 4th, 2014 we received our local Ethiopian charity license as an official Ethiopian NGO (non-government organization).  We know God has a purpose for each life, and it was spelled out plainly in Rediet's name and our family simply coming to be here to develop FNM.  (here is our adoption video)
---
HOWEVER, WE WANT TO SAY THIS WITHOUT HESITATION…
ALL OF THIS IS ONLY POSSIBLE BY OUR DONORS (FROM THE BEGINNING UNTIL NOW).  WE COULDN'T BE HERE WITHOUT THE SUPPORT OF THOSE GIVING TO FORGOTTEN NO MORE.  WE FEEL HONORED TO HELP CONVERT THEIR DONATIONS INTO CHANGED LIVES.  THE FACES OF FORGOTTEN NO MORE IS EACH CHILD WHO COMES TO OUR CENTER.  THANKS SO MUCH FOR PARTNERING WITH US!!!
---
"It's FREE to give us a "SHOUT OUT"...